***After getting the idea from another blogger, I've dated this post for next Friday, so it'll stay at the top of the blog for this entire week.***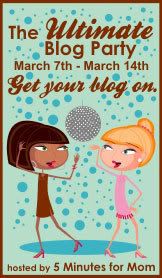 Well, after seeing this on a couple of other blogs, I finally had to go check it out....and, it looks too fun to pass by! This is a great way to meet other happy bloggers and also a way to win numerous great prizes! I encourage you to click and check out their site, because this is TOO FUN!!
A little about me--I am a SAHM to a 5 year old boy and a 3 year old girl. It's been my lifelong goal to be a wife and mother. Before motherhood, I taught 2nd grade for 8 years. Now, my creative outlet is making custom boutique clothing for (mostly) girls and (some) boys. My blog is a place where I share about my life, my family's life, and my designs for family, friends, and customers. Thanks for stopping by!
BUT WAIT!!!
Don't leave just yet! In the party spirit, I am going to do a give-away! All you have to do is leave a comment in the comments section of this post. Let me know you stopped by, and IF you are a custom boutique buyer (or may become one), let me know what you'd like to see created--fabrics you'd like used, styles you'd like to see, separates options, etc.....I want to know!
The
WINNER
will be chosen using a random number generator Saturday, March 15th. All comments received before 12:01 a.m. CST on the 15th will be eligible!
THE PRIZE
will be a custom boutique item of your choice! An outfit, a bag, burp cloths....I'm also open to suggestions that fall within reasonable boundaries (money and time)! Here are some pictures of items I have made that would fall into "reasonable boundaries."
And, OH MY, the prizes! There are so many prizes to be won (as a blogger OR as a blog reader)! My favorites (in order) are:
1. 110-3 Autographed "
My Name is Not Isabella
" books from
Jennifer
.
2. 103-
Pink Brick Box Play Set
from LEGO.
3. 142-
Ballerina Barrette Hairclip Holder
from
Nissa's Niceties
.
4. 119-
Personalized Lunchbox
from Girl, That's Cute.
5. 128-
Yoga for Christians
from
Kathleen Marie
.
6. 126-
6 Designer Garage Sale Signs
from Sassy Signs.
7. 113-Arbonne Pampering Basket from The Truest Thing
AND, I'd also love any of these 117, 76, 39, 60, 55!!