I finally broke down and bought some much needed photography equipment....a mini lighting studio. I've worked really hard on my photography this year and hated the thought that the winter months would bring me back down. So, I bit the bullet (the BIG bullet).

One of the best ways to showcase clothing like I make and sell is with "High Key" photographs. Basically (since the basics is all I know), it's photographs with an ALL white background. This is harder than you might think to accomplish--believe me, I've tried various "cheap" methods...without success.

Anyway, my equipment showed up today and I set it all up. OK, that sounded too easy because it WASN'T. There were NO directions and for a photography infant, like myself, directions would have been nice. It took me a LONG time to figure out how to put everything together, and I know for sure that one thing is still totally wrong! One nice thing is that the majority of it fits into a nice black canvas carrying case that was included and the breakdown only took about 15 minutes.

Here's how it looked set up in my front living room today:
Now, for those of you who may be high-key pros....I know that it's not set up right. I have a little adjusting and tweaking to do. However, feel free to leave tips in the comments! I'll take all the help I can get!!

After it was all set up, I asked the kids to come in and pose for me. These are the kinds of shots I ended up with: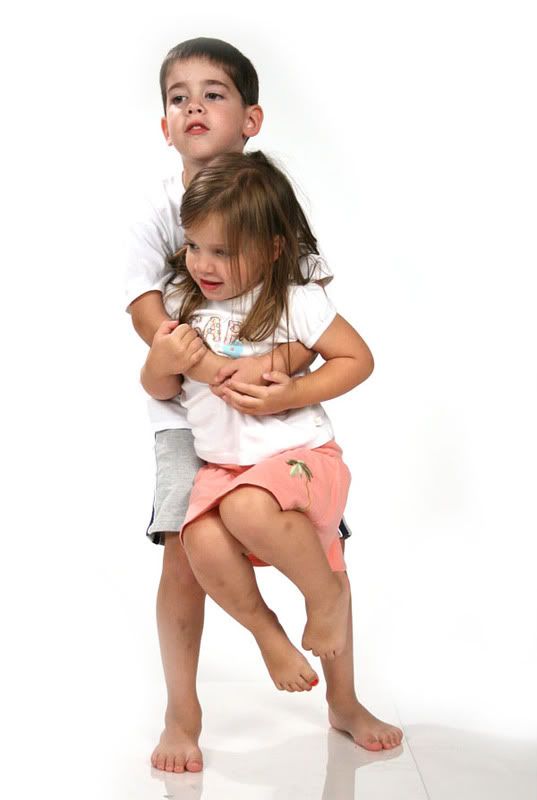 Yes, I did edit them a bit, but nearly as much as I thought I would have to. Overall, I'm pleased and *think* I will view the whole thing as "money well spent."
***Edited***
I thought I'd add this information for anybody else who was interested:
I ordered from B & H Photo.

1250 Watts 3-Light Mini Boom Kit #IMFL1250MBK
****It's on sale for $204.95 and you get all this:
-3 Porcelain Sockets with In-Line Switch
-1 5" Floodlight Reflectors
-3 8' Light Stands
-1 Mini Boom Arm
-2 43" Translucent Umbrellas
-2 Umbrella Brackets
-2 ECT 500 Watt Bulbs
-1 ECT 250 Watt Bulb
-1 Light Kit Bag 2 (which I love, because you can pack it all up to put it away!)

I also ordered Super White background paper and an economy paper stand.